Vermont Home Insurance Quotes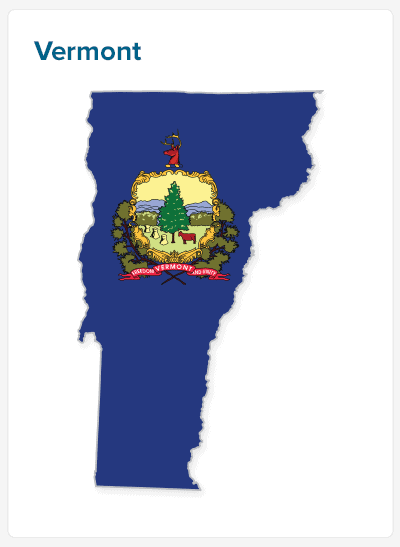 It's important to protect your home from minor losses, such as mold, or from catastrophic events, like a fire. Home insurance protects you from damage that might occur to your property and potential financial ruin. It also protects you from paying out of pocket for any injuries that others might incur while visiting. Although most state laws, including Vermont's, don't require you to purchase homeowner's or renter's insurance, mortgage companies typically do.
Shop around and review at the benefits that different insurance companies offer – this way, you'll purchase the right home insurance for your needs.
Comparing Vermont Home Insurance Rates
Homeowner's insurance costs differ in Vermont. Some factors that affect rates include:
Type of home construction (wood, brick, etc.). Brick homes are typically cheaper to insure than wood homes.
The value of your home.
Deductible amount.
Whether or not you've installed protective features, such as stronger weather-resistant roofing or windproof windows.
How many home insurance claims you've made in the past three years.
A home or renter's insurance policy typically doesn't cover flood damage. Therefore, if you live in a low-lying area of the state, consider purchasing flood insurance. Flood insurance is available from the federal National Flood Insurance Program.
Home insurance rates vary from insurer to insurer so it's wise to get several insurance quotes before you buy a policy. Experts recommend that you get quotes from five or six different insurers. Also, look into the service record and reputation of the company before making any commitments. To find out more about a company or agent, contact the state of Vermont's Insurance Division.
Preparing for Disaster
As the old saying urges, "It's better to be safe than sorry." One way to prepare yourself in case disaster strikes is by creating a home inventory. Here are some tips on how to create an inventory.
Document each item one room at a time.
Write down and photograph anything of value in each room, such as jewelry, art, china, electronics, musical instruments, furniture, or decorative items.
Copy serial and model numbers and any other specific information on valuable items.
Determine the value of each item (estimates are fine, and if you have the original sales receipts or appraisals, be sure to make copies).
Store your home inventory and files in a safe place, such as online, in a safe deposit box, or a fireproof cabinet (it also is a good idea to share this information with a trusted family member or friend).
Frequently Asked Questions About Vermont Home Insurance
1. Are there different kinds of home insurance policies?
There are several types of home insurance policies. Each one varies in the coverage it provides. The State of Vermont website gives more detailed information about what is included under each type of policy.
2. Is a small farm with some income-producing animals covered by a typical home insurance policy?
Farms of any size aren't covered by a standard home insurance policy. Instead, you will need to buy a special farm or business policy. Fortunately, there are several insurance agents in Vermont who specialize in this.
3. Are vacation homes covered by a home insurance policy?
Homeowner's insurance is only applicable to property that is occupied most of the time. For a vacation home, take out a separate basic or limited coverage policy. This is called a dwelling policy.
How to Get Great Rates on Vermont Home Insurance
Has it been a while since you shopped for homeowner's insurance? Is so, loyalty doesn't always pay because prices vary from insurer to insurer. Another company may offer you a much better deal. Looking for home or renter's insurance quotes? insuranceQuotes.com can help you find the best homeowner's or renter's insurance policy at the best price. Every year, we match 15 million consumers to the nation's biggest home insurance companies, including Allstate, State Farm and Farmers.